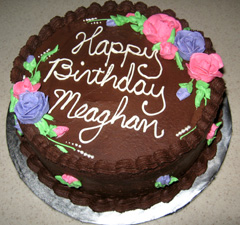 Basic decorations for cakes include flowers or balloons with a short written message.

For a list of products available in different allergy-free combinations, click the Our Products tab above, or one of the links below. We do not use nuts or peanuts in any of our products.



---
© 2008-2012, The Allergy-Friendly Patisserie LLC
http://www.allergyfriendlypastries.com
Welcome to Let Them Eat Cake, serving the San Francisco Bay Area since 2008!

Our mission is to create professionally-made cakes and pastries everyone can enjoy, even those with food allergies or dietary restrictions.

Click the Our Products tab above to see our allergy-friendly cakes and other baked goods, including our vegan and gluten-free/dairy-free product lines. All our products are nut-free and peanut-free.

We are currently fully booked for May 25 th and 26th. Early June we will be relocating to a new kitchen in Santa Clara. At the new location we will be able to have a few ready made items each day available for those last minute needs.


Please note: we book up quickly so we recommend placing orders at least two to three weeks in advance. Depending on our schedule, we may not be able to accommodate short notice orders.

To place an order, please fill out our order form or give us a call at 408/940-6887, and we will follow up with you to finalize the details. All our products are baked to order, and our schedule fills up fast, so two to three weeks advance notice is strongly recommended for all orders, but more additional lead time may be necessary depending on our schedule.

We do not have a retail location at this time. Our products can be delivered to your door (in the San Jose, CA area), or picked up from our kitchen at 326 Commercial St in San Jose. We bake our products in a commercial kitchen that is licensed and inspected by the Santa Clara County Department of Environmental Health.

Under New Management

The co-founders of Let Them Eat Cake have moved to southern California, and ownership of the business has been transitioned to Marji Prows, who will serve as the new Executive Pastry Chef. The allergy-friendly product line and ordering process will remain the same, but the new pickup location (by appointment only) is 326 Commercial Street in San Jose.
New Yelp page
(San Jose location):

Old Yelp page
(Milpitas location):